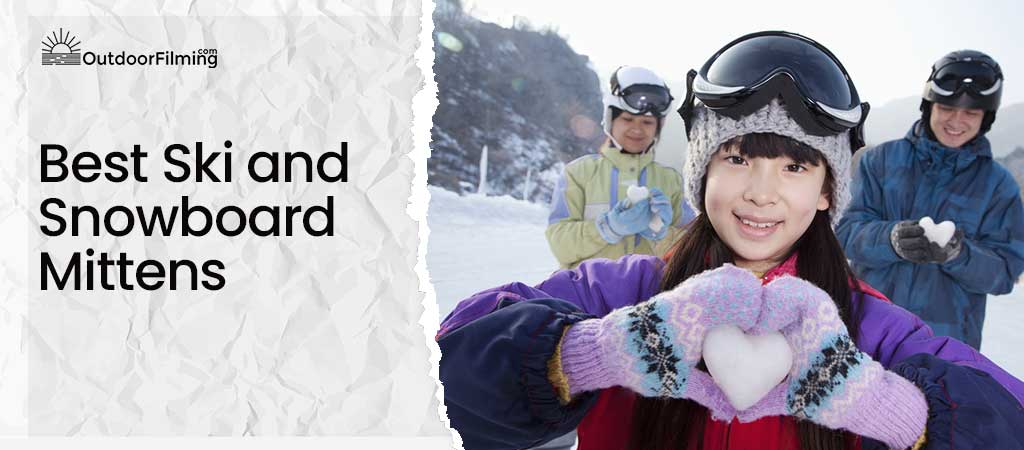 When you need serious warming up, you often grab a pair of mittens. But when you're skiing or snowboarding, mittens will allow you to have a good grip on your ski poles. Or you can even unzip your jacket or adjust your boot buckles. Compared to gloves, full mittens restrict movement.
But in subzero temperatures and frigid winter, gloves may not be warm enough. That's why we have listed the 10 best ski and snowboard mittens that can create a balance between dexterity and warmth. It might not be fully dextrous as gloves, but these will allow you to grip your ski poles better than any brand
Our Top Picks for the Best Ski and Snowboard Mittens for Men
1. Burton Gondy- Best Leather Mittens
These leather mittens have a classic look and can keep you warm and toasty.
These leather mittens might have a gore-tex and gore warm system that will keep your hands toasty warm and comfy. So even with the raging cool wind of the mountains, you'll still be comfortably warm. You also won't have to worry about moisture, because there won't be any. It also has a classic mitten design and doesn't have any inserts for digits.
The leather material on the exterior makes it look classic. And it makes it durable too. The thumb part of the mittens is also touchscreen compatible. So you don't have to expose your hands to the cold should you need to use your cell phone.
Moreover, the thermal core insulation will give your hands sufficient warmth, unlike other regular winter mittens you can buy at Costco or Walmart.
Pros
Touchscreen compatible
Uttara warm and comfortable
Soft inside
Moisture resistant
Durable
Cons
Why you should buy these mittens
It can keep you warm and fuzzy during harsh winter conditions. And you don't have to worry about moisture too.
2. Black Diamond – Best Budget
These budget mittens will keep you warm and toasty for skiing.
The outer shell of these mitts is made of nylon and leather. And it boasts of a two-finger design. But since you need more dexterity in skiing, these mitts also feature a liner that you can use to separate your fingers inside. So you can still enjoy the uber warmth while having more mobility.
The removable liner is made of Primaloft gold and a fleece. So you can expect serious warming up and comfort. It can undergo wear and tear and will not show signs of it.
Pros
Waterproof
Affordable
Warm and toasty
Has liners to split finger
Cons
Some still have found it challenging to grip a ski pole
Why you should buy these mittens
If you need serious warmth but are on a budget, these mittens will serve you well.
3. Outdoor Research- Best Heated Mitts
When you need serious warming up, these heated mittens will indulge you.
These warm babies can keep you warm no matter how cold the temperature is. The built-in battery warmer is no match for a cheap chemical warmer. This is for sub-zero skiers who love to explore and plunge into the cold abyss. These mitts will seriously deter the cold temperature.
You can also customize the heat settings so you can choose the sweet spot of comfort.
It's equipped with a gore-tex insert for insulations and it's waterproof too. So moisture will not find its way into your mitts. Moreover, these are touchscreen compatible so you do not have to take them off to take a call.
Pros
Touch Screen capabilities
Battery-powered heater
Comes with a clip and leash
Abrasion-resistant leather psalm
Super warm and toasty
Cons
Why you should buy these mitts
If you need serious warming up, these heated mitts are the best option.
4. Dakine Baron- Best Heavy Duty
These mittens are beasts and can withstand harsh winter conditions.
If you're skiing or sloping in sub-zero mountains, you need the Dakine Baron mitts. These mitts are made for the big league. It can stand harsh winter conditions and can take on use and abuse.
It features a low profile cuff and has and uses a combination of insulation materials. It has Prialoft and a wool blend liner, these insulation materials will keep you warm and cozy even in frigid winter temperatures.
It also has a gore-tex insert that can repel water. Moreover, it's made from environment-friendly materials.
Pros
Heavy duty
Warm and cozy
Water-resistant
Cons
Why you should buy these mittens
These are heavy-duty mittens built for sub-zero temperatures.
5. North Face Montana Etip – Best 3 Fingered Mittens
The 3 finger design offers better mobility but still provides warmth for cold winters.
If you have difficulty holding onto your ski poles with two-fingered mittens, these 3 digit mittens from North Face will serve you well.
It has a full cover gauntlet style that offers maximum cold protection and keeps snow out. The palm of these mittens is rather soft yet durable. It's made from flexible synthetic material.
Moreover, it uses a wool blend liner and Primaloft material for insulation. So this is decently warm and toasty. It also has a gore-tex insert that repels water.
Pros
Made in the USA
Very warm and toasty
Water-resistant
More dexterous
Cons
Long gauntlet-style limits may limit wrist movement
Why you should buy these mittens
It's a 3 finger mittens that are very warm and more dexterous than other brands.
Our Top Picks for the Best Ski and Snowboard Mittens for Womens (A Product Review)
1. POW Stealth GORE-TEX Mittens- Best Functional
These mittens combine function and style in one.
These POW Stealth women's mittens boast of a gore-tex and gore warm system to keep your hand toasty and warm. It has a goatskin leather outer shell that looks fancy and nice. Moreover, It has a fur-lined inner cuff for warmth and comfort.
These babies are also waterproof. And the gore-tex insulation is breathable. So you can stay warm and comfortable while slopping the mountains in style.
Pros
Smartphone compatible
Luxurious design
Warm and breathable
Waterproof
Cons
Might take longer to put on
Why you should buy these mitts
It looks stylish and also seriously warm at the same time.
2. The North Face Montana Future Light- Best for Moderate Temperatures
These synthetic leather mitts are best for modest temperatures.
Like gloves, these mittens are quite flexible. These are lightweight and flexible, that's what sets it apart from other mitten brands. So you can be assured of a better grip. You can adjust your boot buckles or unzip your jacket easily. It's easy to wear too.
It also features a gauntlet cuff for added protection from moisture and snow. It makes use of a heatseeker synthetic material for insulation. Keep in mind that it is sufficiently warm in moderate temperatures, however, it might not be suitable for every frigid winter conditions.
Pros
Flexible and lightweight mittens
Easy to use
Better grip
Cons
Not suitable for colder temperatures
Why you should buy these mitts
These moderate temperature mittens offer greater mobility and are quite flexible.
3. Gordini Women's- Best Warm
Sleek, stylish, and equipped with fingers, this can help you get a better grip on your ski poles.
These leek looking mitts are rather functional too. It has an internal finger so that you will enjoy better mobility and dexterity.
It has a textured synthetic palm with an improved grip. So you'd be able to hold onto your ski poles better.
The outer shell is made of full goatskin while the insulation is made of Primaloft gold and has a membrane of Goretex to repel water. Moreover, this under cuff mitts boasts of an adjustable double layer cuff. So it seals in tight to prevent snow and moisture from penetrating.
Pros
Stylish and looks clean
Warm and cozy
Better grip
Water-resistant outer shell
Cons
Under cuff design can expose wrists to the cold
Why you should buy these mittens
The goatskin outer shell looks clean and stylish. And these mitts mean serious business too. They are waterproof and can keep you toasty warm.
4. Serious Heat Touch Hellfire- Best for Sub Zero Temperatures
These warm leather mittens can still get warmer!
These leather mittens are equipped with electric heat panels inside that can amp up the heat. So this is perfect for subzero temperatures where you need to get seriously toasty.
They are windproof, waterproof, and have breathable inserts. So they are quite comfortable despite the serious protection from the cold. Even the fingertips will be very warm.
Pros
Very warm
Breathable
Windproof and waterproof
Cons
Why you should buy these mittens
If you need serious warming up for sub-zero temperatures, this is it.
5. 686 Linear – Best Flexible
These flexible and affordable mitts are water-resistant.
The outer shell is made from a water-resistant DWR fabric. In addition, it feels comfortable and breathable.
It has a gore-tex membrane for waterproofness and a Gore warm technology. So these mittens can keep you decently warm and comfortable and it has a very affordable price tag too.
Moreover, it is touchscreen compatible. So answering calls will be the least of your worries. You do not need to remove your mitts in the cold outdoors.
Pros
Touchscreen compatible
Warm and cozy
affordable
Breathable
Waterproof
Cons
Less mobility on the wrist part
Why you should buy these mittens
These warm and flexible mitts have an affordable price tag
What to Look for When Buying Ski and Snowboard Mittens (A Buying Guide)
Mittens offer protection from the frigid cold. But different brands offer different levels of warmth and comfort. So consider the following when buying one.
1. Warmth
When we speak of warmth, we talk about insulation. And mittens use an array of insulation materials. It can be made from synthetic material or natural materials such as fleece.
The more quality the insulation is, the more warmth they can offer. Most of the warmer brands make use of a combination of insulation materials. A mixture of Primaloft and fleece, for insurance, can amp up the insulation.
2. Waterproofness
Along with warmth, you also have to consider how waterproof your gloves and mittens are. Because if it's not, you'll be freaking cold once the snow comes into contact with it and melts.
It should be able to prevent snow from coming inside as well as keep moisture and perspiration out.
Among the high-quality waterproof materials used in mittens is gore-tex. It's a membrane insert that keeps moisture out and makes the mitts breathable at the same time. So it's best to look for this material when you're searching for ski and snowboarding mitts.
3. Dexterity
Dexterity allows you to be able to buckle your bootstraps or grab your ski poles properly. But it is always very subjective. Technically gloves offer more dexterity than mittens. But you also have to consider the warmth. The warmer it is, the bulkier it can get. Hence it limits movement. So what you need is a balance between warmth and freedom of movement. And you'd get that with the best ski and snowboarding mittens.
4. Cuff length
There are two styles of cuff lengths, the gauntlet, and the under the cuff. The gauntlet extends beyond your wrist while the under cuff cuts just right above your ski jacket. Aside from style, these two offer varying levels of protection from the cold and snow. We have a section later in the article to elaborate on it.
You may also like: Best Thin Gloves for Extreme Cold -20c
5. Size and fitting
A well fitted mitted will allow you to maximize dexterity. Mitts that are too loose or too tight can limit movement or not provide enough protection from the cold.
Gauntlet vs Under cuff length
Gauntlets can extend beyond the wrist. And there are even gauntlet styles that can extend longer. Technically, gauntlet mitts offer more protection from the cold as they are longer and can reach your forearm. It's an added insulation from the cold. It can also seal out the cold better and prevent snow from coming in with its pull strings.
However, this type of cuff style will offer limited movement on your wrist.
Under cuff styles, on the other hand, just cuts above your ski jacket. Since they are less bulky compared to the gauntlet mitts, they offer more freedom of wrist movement. And they have better ventilation for your wrists as well.
However, since it just cuts above your ski jacket there is limited cold protection. Once your jacket rides up, it can expose parts of your wrists to the cold and snow.
FAQ's:
Which is better, a gauntlet cuff or an under cuff?
That depends on where you're going to go skiing or snowboarding. Gauntlet style mittens can provide maximum protection from snow and the cold. So it's best suited for cold and wet weather and deep powders.
Backcountry skiers and freerides prefer under cuff mittens since they offer more range of movement.
How do I get the right size of mittens for my hands?
Get the measurement of the widest part to your hands using a tape measure. That usually right behind the knuckles. Then match this number to the manufacturer's corresponding range. But take note that this isn't foolproof and it's still best to try the mittens on.
Final say
Mittens are king when it comes to warmth. But they are not so when it comes to dexterity. So what you need is a balance of both. And you can find that with our best selection of ski and snowboarding mittens. If you can't go full mitts, you can be comfortable with three-fingered mittens or one with finger inserts.