Snowmobiling is a great way to enjoy the winter outdoors with your friends and family. Whether you're a beginner or an expert "snowthlete," you're sure to have fun.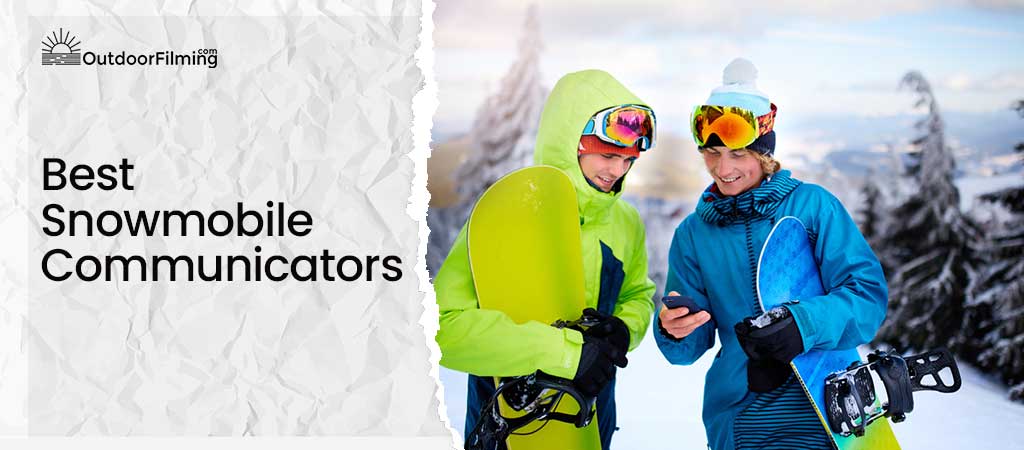 However, like any other snow activity, there are also dangers in riding snowmobiles, especially if there's a lack of communication. Fortunately, it can be prevented if you get one of the best snowmobile communicators.
But picking the best snowmobile communicator is not easy. There are tons of options that you need to check to get the right communicator that works best and suits your needs. To obtain information about it, please check this article to help you out.
Top 10 Best Snowmobile Communicators
Overview:
Brand
Weight in lbs
Features
Type
Range
Shops
Cardo 4 Plus Communication System
2.2
3 Bluetooth intercom channels,4.1 Bluetooth connectivity, JBL sound, 13 hour talk time, voice operated, built in radio, 2 types of mic
4 way
Up to 1.2 km
Check Latest Price
Read Full Review
CARDO DMC Communication System
1.1
4 way intercom, 13 hour talk time, 4.1 Bluetooth connectivity, JBL sound, 20 plus on board commands in multiple languages,wind noise reduction, iOS and Android Cardo Connect App
15 riders group chat
1.6 km
Check Latest Price
Read Full Review
Lexin B4FM
1.1
Bluetooth 5.0, Hi-Fi stereo headset, Universal pairing, 4-way group intercom, Noise-canceling, FM radio, Waterproof, 15 hours of talk time, Voice operated
10 rider group chat
1.6 km
Check Latest Price
Read Full Review
Sena SMH10-11
2
Hands-free, 3.0 Bluetooth connectivity,Advanced noise control technology, 12 hours of talk time, comes with universal mic kit, Universal intercom protocol, and 0 days of stand-by time on a single charge
4 way intercom
1.6 km
Check Latest Price
Read Full Review
THOKWOK
.7
CSR Bluetooth chip, Noise-canceling technology, Waterproof, Conferencing features up to 3 devices, 8 hours of talk time, Built-in FM radio
3 riders group chat
1 km
Check Latest Price
Read Full Review
Fodsports M1S Pro System
1.1
2000 n or 2 km range, Full-range monomer, Manual and hands-free function, CSR chip, waterproof, Noise reduction and cancellation features, 20 hours battery
8 group/riders intercom
2 km
Check Latest Price
Read Full Review
FreedConn TCOM-SC Headset
1
3.0 Bluetooth connectivity,Noise-canceling features, Water-resistant, LCD, 800 m range, 5 hours talk time, 20 hours standby time
2 to 3 riders pairing
.8 km
Check Latest Price
Read Full Review
Yideng BT-S2 Bluetooth Headset
.02
Bluetooth intercom 3.0+EDR, DSP echo cancellation and noise suppression technology, GPS and FM radio,Waterproof
Two-way intercom
1 km
Check Latest Price
Read Full Review
Sena 20s-EVO-01D communication system
2.31
13 hours of talk time, Performance update from the previous model, operating temp of -10 degrees to 55 degrees celsius

8 riders/ group intercom
2 km
Check Latest Price
Read Full Review
Lexin 2X LX-FT4 Bluetooth Headset
.11
4.0 Bluetooth connectivity, HSP, HFP, and A2DP, Hands-free, Noise reduction,10 to 15 hours of active use
4 rider intercom talk
2 km
Check Latest Price
Read Full Review
We have picked the best snowmobile communicators that can ensure you'll have nothing to take home but fun memories.
These devices will ensure prompt and efficient communication within your groups. And they also have extra features to boot.
This hands-free snowmobile communicator system works just like Siri.  It also offers a lot of features.
So you don't need to press any button. Just holler, "hey Cardo" and it will automatically connect you to Google. It's very convenient and this modern update feature also helps you keep your eyes on the road.
Not to mention, hollering out Cardo whenever you need to search for something sounds pretty cool too.
The device has 4.1 Bluetooth connectivity, and you can also listen to music via the regular option, JBL, and FM radio.  And since it's JBL, you can expect a surreal sound experience. 
It can also contact four people at the same time within the 1.2 km range.
Pros
It's water and dustproof features, so you can go anywhere without worrying that it will get damaged
Long battery life of 13 hours talk time
You have an option between a boom mic and a wired mic
Volume is self adjustable, you do not need to press any buttons
The device has noise reduction and JBL sound is impressive
It's hands free and uses voice commands so you can concentrate on your driving
Can be paired with non Cardo headsets easily
No pre pairing needed for Cardo headsets
Cons
Voice commands may be challenging to hover through for some
The software takes time to upgrade
You can use the device to connect up to 15 devices, which is ideal for riding in a group. It also has excellent connectivity, so you will not encounter any problems while communicating with other people.
This one came from the same manufacturer as the first device, so you can also expect it to be voice-operated. The difference between them is the DMC or Dynamic Mesh Communication that helps in Bluetooth connectivity. Additionally,  it can connect up to 15 other devices.
This unit can also connect to Siri or Google and has a high-definition speaker by JBL. It is dustproof and waterproof, too. Moreover, this communication system has Bluetooth 4.1 and boasts 13 hours of talk time. The range of this device is wider with 1.6 km, compared to the first device with 1.2 km only. The radio has RDS, which will automatically select the strongest signal for you.
Its mic is interchangeable with a boom or corded mic. You can also quickly charge it up using a battery pack or a 12V charger while you ride.
Pros
It can be connected to up to 15 devices so it's perfect for large groups
It has a long battery life of 13 hours
It's voice operated like Siri and you just need to holler "Hey Cardo"
You can choose between a boom mic or a wired one
Waterproof, can stay 3 hours under the rain
The radio wave range is pretty long
Cons
We wished the mic was better
The software takes time to upgrade
This device has a hands-free communicator that works without the need to touch any button. And it easily pairs with other Bluetooth devices too.
Since it can recognize your voice, you don't need to stop driving to receive or make calls. It can connect to four other people at the same time within a 1.6 km range. 
Besides that, this HiFi stereo headset also has a waterproof feature, Hi-Fi stereo music, and built-in radio, which will make your adventure much more promising. It also has a GPS navigation system that you can use to check where you are or find your destination. 
Additionally, the battery can last 15 hours of talk time, which allows you to plan a long day trip. 
The noise cancellation is more advanced and one of the best that we have in our list. You can enjoy crisp loud sounds while the background noise is totally removed , even if you are riding at full speed.
Pros
It is waterproof and excellent for outdoor use
It can work properly even in extreme -15 degree temperature
It has advanced noise cancellation technology and can function well even at speeds up to 120km/h with DSP& CVC
Hands free and voice prompt command
It has a longer battery life that can last for the whole day
Can connect up to 10 riders in the intercom
The hands-free call is also available as long as you connect it to your Bluetooth-enabled phone. 
This device comes from a brand known for providing the best snowmobile communication systems in the market. It has 3.0 Bluetooth connectivity and allows riders to communicate and share music with other people within 3000 feet or 900-meter range.
It has a jog dial that you can use to change the volume and check the other function in the device. The jog dial is easy to use, so you will not have a hard time using it even if you are riding your snowmobile. It also offers natural sound and has a noise cancellation feature that will make the communication between riders clear and smooth.
The battery can last up to 12 hours of talk time so that you can communicate with other people for an extended period. It also allows the rider to connect to other devices even if it is not from the same brand.
Pros
It has an advanced noise cancellation for both incoming and outgoing audio
It has a pretty far range and sounds are still clear and crisp
It's easy to pair up with other brands
It has a universal intercom protocol
It allows you to share music and communicate within your group, even if they have different brand headsets
Thokwok Bluetooth headset is another budget-friendly and reliable communicating device you can use whenever you want to go outdoors with your snowmobile.
It has a straightforward design and controls, so beginners will not have any difficulty in using this device. 
The oversized buttons make it easier to use even if you're wearing gloves. It's also pretty light on the pocket, both literally and figuratively.
The device is hands-free operated; thus, you can concentrate while riding even if you receive calls, make a phone call, or access any device function.
It has conferencing features where you can connect three devices at the same time within half a mile. To make sure that you have clear sound and conversation, they also put a voice canceling feature. It will neutralize the background noise to listen clearly, even if you are riding fast or riding during lousy weather.
It can also be used in most headsets, but it is still better to check this first. The device is waterproof and has a built-in radio, too. Its battery life also lasts long, which will give you eight hours of talk time, ten hours if you are listening to music, and 300 hours on standby. 
The speakers are also nice and slim and can easily fit into your helmets.  And the microphone is slim and flexible. It's a very compact and lightweight unit.
Pros
It's all silica gel waterproof both in rain and snow
Suitable for any full-face helmets and most half-face helmets
It's easy to assemble and disassemble
It's very lightweight
It has a longer standby time of 300 hours
The instructions for pairing are simple and easy to follow
Cons
The connectivity range is shorter than other devices
The bass is a bit strong
This device comes with a rechargeable battery of 900 mah that can last for 20 hours.  So that's pretty long lasting!
Aside from that, you can also switch it from manual to hands-free just by pressing both the intercom and volume buttons for 3 seconds.
This device also has quite a good range of 2 km. And you can connect 8 groups or people into the intercom, so this is also great to use for a medium size group. And with the good range, you're sure that no one in your group will get lost.
And if you get disconnected, it will automatically reconnect once you get back within the range. 
The sound you will hear is crystal clear since it uses a full-range membrane monomer. It will even provide high reproducibility for bass. But you may need to upgrade to the latest software to get rid of the wind noises in the background.
Pros
Easy to set-up and install, it's easy to pair too
It has a longer battery life than the rest
Clear sound and connectivity, the music is amazing, it has a little thump to it
Customer support and after sales were great
Can install in most helmet
Cons
Buttons are not that durable
Need to upgrade software for better noise cancellation
When looking for snowmobile headsets that are stylish and provide good performance, this product might work for you. 
The device looks great and high quality, so it will match any look you want when you go out and ride your snowmobile. 
The sound is decent, but the sound quality isn't impressive, it may lack bass. The sound quality comes second to the functionality, which is okay since this is also a very affordable unit.  
But though the sound is not the best, we have to give it to the brand in terms of noise cancellation features. You can clearly hear the other person on the other line even with a noisy background. 
Aside from that, it can also connect to two or three riders at the same time within the 800m range. It will provide strong connectivity so you won't have a problem communicating with other riders or connecting to other devices. 
The device also has an LCD screen where you can get information. The multi-function button for volume and wheel control is handy. It also has MP3, FM radio, and GPS features. 
You don't need to worry even if you get drench since it is water-resistant and can adapt to any kind of weather.
Pros
It has a stylish design
It has a very affordable price
It has impressive noise cancellation features
It is water resistant and can survive light rainfall
The battery life is relatively long, lasting for 10 hours even at full volume
Easily connect to other devices and the instructions were very simple and intuitive
Cons
For light duty use only
The headset lacks bass
The headset can do a 2-way call and has a feature that provides a good connection even if you ride at 75km/h. 
It also has a wide range of Bluetooth connectivity since it can connect to people within 1000 meters. 
To make the sound quality excellent, they also put in DSP echo cancellation and noise suppression technology.
It is easy to install, so you can use it instantly after setting it up in your helmet. You can also listen to music, use GPS and FM radio with this device.
The hands-free feature will help you answer a call without the need to stop somewhere. It is waterproof, so it won't get damaged even if you encounter rain while riding your snowmobile.
Though some may have a hard time understanding the instructions on setting up and pairing, once paired it has a memory pairing feature. Meaning you don't need to pre pair it with the same device, it will recognize it and automatically connect.
Pros
Wide range of Bluetooth connectivity
Hands-free features
Sound quality is great for listening to music, taking phone calls, and talking with your riding partner
Decent noise-canceling feature
It has impressive battery life
Very lightweight and does not affect the aerodynamics of your helmet
Cons
The instructions are a bit hard to understand
Can't communicate clearly above 50 mph wind noise
What is great about this device is its multitasking feature. It can make calls while listening to music, the radio, or using GPS. 
Like our overall choice, Cardo 4 Plus Communication System, it also uses voice commands so you can connect to Siri and Google. So it's quite convenient and all you need to do is to holler out.
Aside from that, this version is much more durable and has better connection stability than its previous model. 
It also has advanced noise control so that you can have great audio on this device. They ensure that it will perform better, so you can enjoy your snowmobiling every time you want without any problem.
Pros
Use voice command
Comes with a Sena headset app
It's fast to charge and battery life lasts for the whole day
The call quality is good even with a noisy background
Reconnects automatically when connection is lost
Multitasking feature saves time
Cons
Communication range is kind of line in sight and not as advertised
Volume on iPhone is kind of low
This device comes with the best wind and background noise reduction so you can have a clear conversation with other riders.
It is also compliant with 4.0 Bluetooth connectivity, HFP, A2DP, and HSP. These qualities let you have good connectivity even if you ride fast up to 95 mph. 
Besides that, the device also has high-quality speakers, an FM tuner, and noise-canceling features. 
It also has a universal fit so you don't have to buy a new one. It's also ice proof and waterproof. Thus, it won't get easily damaged even if you accidentally left it under snow. 
The device also has 10 to 15 hours of active use. Hence, you can use it for a long time.
Pros
Comfortable to wear, the headset comes with speaker spacer inserts to place the speakers closer to the ears
It has a universal fit
It has high-quality audio
It has a built-in FM tuner
It pairs up easily with other brands
Noise-canceling feature, the sounds are crisp and clean
Ice proof and waterproof
Cons
Controls and buttons can be confusing
What is a Snowmobile Communicator?
Snowmobile communicators are devices that help you communicate with other riders when snowmobiling. This device is essential if you get into accidents or get lost in unfamiliar terrain. It also has tons of features, like GPS navigation, radio, receiving and making calls, listening to music, and many more. 
Advantages of Snowmobile Communicators
Why do you need to get a snowmobile communicator? Is it important? If you want to know the answer, read on.
Snowmobile communicator helps you communicate with other people, which is helpful in case of an emergency.
You can also talk with many people at the same time, which will make snowmobile riding more enjoyable.
You don't need to stop to receive a call. Most snowmobile communicators have hands-free features that will let you receive or make calls without touching the device.
Listening to music or radio with this device is also possible. Snowmobile communicators have many features that you can use to make your adventure more fun.
It can have a GPS navigation system that can help you find your way or find your destination during your snowmobiling.
Disadvantages of Snowmobile Communicators
Like any other device that people use, snowmobile devices also have disadvantages. Read some of them here:
One of the problems people have with snowmobile communicators is their reliability in communication. Some devices do not have a good and clear connection with other devices, especially in challenging terrain and weather conditions.
The connection may also have a problem when the riders in the group use different snowmobile communicators.
Not all snowmobile communicators are designed for winter outdoors. Most devices are made for motorcycles, so when you use them in winter, it can't withstand the cold.
It is hard to use the small dials and controls, especially if you have mittens on your hands.
Some snowmobile communicators are also tricky to use, which becomes a hassle for those who are not tech-savvy or beginners in snowmobiles.
What to Consider When Buying the Best Snowmobile Communicators (A Buying Guide)
Since you are searching for the best snowmobile communicators, you will need to know the necessary hat factors and features to get the right one. Listed down below are the things your snowmobile communicator should have so you can choose the best one for you.
The sound should be of High Quality:
The snowmobile communicator you will get must have a high-quality sound. It is to make sure that you can hear and understand the other party who communicates with you. Some communicators have speaker spacers that help block the wind noise so you can listen to the sound in your communicator. Others also have noise cancellation technology that also blocks off background noises.
Wide Range and Strong Connectivity:
It would be best if you also looked at the range of the snowmobile communicator's Bluetooth connection. Remember that the wider the range, the better since you can communicate even with long distances. Make sure to check if it has strong connectivity so you can reach others easily, clearly, and smoothly.
You may also like: Best Snowmobile Handlebar Gauntlets
Quick and Easy Set-Up:
It is best to get snowmobile communicators that can be set-up quickly and easily. This way, you will not have a hard time putting it up and using it. It should also be compatible with whatever type of helmet you have. Besides that, ensure that it comes with an installation guide that is easy to understand.
Good Battery Life:
If you are going to get battery-operated communicators, you should opt for a rechargeable battery. It is more economical since you just need to charge it up instead of buying new ones every time you want to get out. However, make sure to get a good battery that can last up to at least eight hours so you can enjoy your snowmobiling experience.
Features:
It is also good to get a snowmobile communicator with many features like radio, mp3 player, GPS, and many more. Aside from that, it should connect to other Bluetooth devices nearby, especially the devices you currently have.
Usability:
Don't forget to check how user-friendly the device is. Check if the snowmobile helmet communicators can fit in your helmet correctly and don't feel heavy. Make sure that you can use every feature properly without any problem. You don't need a device that is difficult to use since it will just disrupt what you are doing.
FAQs:
Is it essential to get a snowmobile communicator?
Snowmobile communicator allows you to communicate with other people. This device is essential if you are lost in an unfamiliar place or got into an accident.
Can you listen to songs with this device?
Some snowmobile communicators have features where you can listen to music and radio.
Can you use snowmobile communicators in a motorcycle helmet?
Some snowmobile communicators can be used in motorcycle helmets, but it is still better to check before using or attach it to your motorcycle helmet.
How does the snowmobile communicator work?
It uses Bluetooth connectivity to connect to other devices so you can communicate with them. 
Conclusion
Getting the best snowmobile communicators might look complicated, but once you know what to look for, it will be a breeze. Make sure you check everything you want your device to have so you can enjoy your snowmobiling experience. Search different products in the market, and you will indeed find other brands that will surely give you your money worth, like Sena, Cardo, and Collett communication.
Editor's Pick:
Cardo Systems Scala Rider Freecom 4 Plus
Our Editor's Pick, Cardo 4 Plus Communication System is loaded with modern and impressive features that can make your snowmobiling safer and cooler at the same time.
Everything is spot on. And it's really cool that it functions in the same way as Siri with its voice command system.