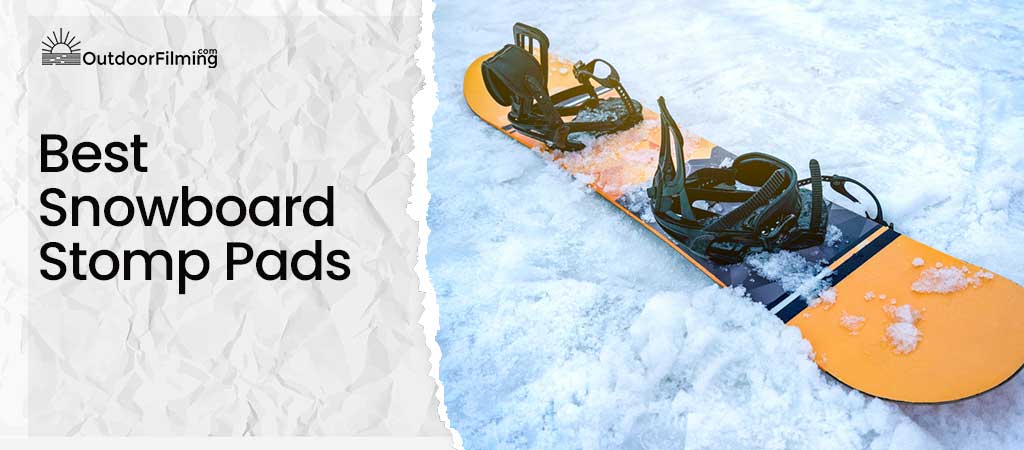 Believe it or not, everyone needs stomp pads. You might think it's just for beginners or resort riders, but no. Stomp pads help you get a better grip on your board so it'll help you ride safely too.
So if you want to avoid wipeouts, you have to install the best snowboard stomp pads. It can benefit you in more ways than one. Hover through our best selection to find out what suits you best.
Our Selection of the Best Snowboard Stomp Pads (A Product Review)
To get the most out of your snowboarding, stomp pads are essential gear. But you do not want to settle for less! Keep scrolling to see our top picks.
1. Crab Grab shark teeth- Best Non-Rubber Stomp Pad
This "crubber" stomp pad is more flexible than your regular rubber pads.
Crab Grab Shark is not your ordinary rubber stomp pad. Instead, it's made from a rubber derivative, with the name crubber. It is somehow more flexible than rubber. Thus, it is more malleable and can bend with your board.
It also has grooved teeth so that's easier to cut. And the shark teeth spikes ensure maximum grip. And if it's traction you want, that is what you'll get with these grooved teeth. It fits well with the boot.
Pros
Impressive grip
Customizable and easy to cut
Fits well
Flexible than rubber
Cons
Some still prefer the rubber material
Why you should buy this stomp pad
This low profile stomp pad has great traction and is easily customizable.
2. ToeJamr-Best Foam StompPad
This hip and cool stomp pad offer a large surface area perfect for beginners.
If you're long for a wide and large stomp pad, this is it. ToeJamr offers a lot of surface area. Hence, it is very friendly for beginners. The wide pad allows engineers to rest their feet longer than they can on any other stomp pad brand.
It's made from EVA foam. That's why it's quite durable too. Moreover, the rough surface ensures decent grip and traction. There's enough friction to keep you on your board.
The cool thing? It comes in many designs so you can definitely customize your board. It is rather huge and can easily fit into your boards.
Pros
Large surface area
Decent traction
Comes in an array of designs
Cons
Has a sticky residue that won't come off
Why you should buy this stomp pad
It is large and perfect for beginners. It also comes in an array of cool designs.
3. Dakine Spike Stomp Pad- Best Adhesion
This nonrubber stomp pad can prived great traction and is very durable too.
The Dakine Spike is similar to the Crab Shark teeth in terms that it's a non-rubber stomp pad. Instead, it's made from urethane and features customizable spikes.
But these can only be cut into strips and not per teeth. Moreover, it features a peel and sticks adhesive that's easy to use. It can stick strongly to the board and it has just the right size to give you some grip when the back foot is out of the binding.
This has great grip and even when snow sets in, you'll still be up on your board. It's also great for getting off lifts or even for cruising along out of the binding.
Pros
Easy to install
Durable and long lasting
Has great grip
Cons
Comes in neutral shade only
Why you should buy this stomp pad
If you love neutral shades, this stomp pad is for you. It's also durable and sticks well to the board.
4. Grayne Metal Studs – Best Value
If you need traction and a scraper to remove snow from your boots, these metal studs are the best option.
It has a superior adhesive that is suitable for snowy conditions. This metal stud stomp pad comes with scrapers that can remove ice from your boots. It's also quite durable and can take on wear and tear and will not show any signs of it.
To remove the snow from your boots, simply scrape the bottom of your boot against the raised edge on the middle part of the stomp pad. And the cool thing is, it comes in an array of shapes too.
Pros
Stomp pad and scraper in one
Durable
Comes in other shapes
Cons
Only comes in a clear plastic color
Why you should buy these pads
If you are looking for a scraper for your boots, this stomp pad will be of more value to you.
5. One Ball Jay Flying Cat- Best for Kids
Your kids will surely love this flying cat stomp pad.
The perky design says it all, this is definitely what your kids would want for their snowboard.
It's a peel and stick stomp pad. And it's easy to use, will not take you more than 30 minutes to stick it to your boards. It also has a decent width and the extended paws of the design help grab the heel. So you might find it better than a circular stomp pad. It's wide enough for your whole foot too.
It is grippy provided that you do clean the surface with alcohol before you stick it and use a blowdryer after. It gives you great traction with its spikes. But you have to make sure to install it properly to avoid any grip issue.
Pros
Made in the USA
Perky design
Wide surface area
Decent friction
Cons
It can easily peel off when not properly glued
Why you should buy this stomp pad
The perky design is great for kids and even adults will love it. The wider surface area also works well for children and beginners.
6. Stage Pyramids- Best Customizable
These individual silver pyramids stomp pads will allow you to design your snowboards however you like.
Stage Pyramids are small spiked pyramids that you can attach to your board. It comes in a 9 piece set so you'd need more pieces to cover your entire snowboard. Those who are looking for a non obtrusive and subtle stomp pad will love this.
It can provide great traction for riding on one foot. And the adhesive is quite strong. It can strongly stick to your boards. And the cool thing is you have the liberty to design it. You can place the small pyramids anywhere on your board and in any way you like to.
Pros
Customizable stomp pad design
Great grip
All-weather stomp pad
Sticks well to the board
Cons
Beginners will not know how much traction they need
Why you should buy this stomp pad
If you want more control over the design of your stomp pad, this is the perfect one for you.
7. Dakine Star Studs- Best Low Profile
These metal stars allow you to customize your snowboard.
These studs provide decent grip too. They stick well to your snowboard and are quite durable. And since they are individual pieces, you can't set them up any way you like.
It holds well when you're getting off the lift and pushing around. Though the grip isn't as pronounced as the pyramid studs from the brand, it does provide sufficient friction. And the adhesive serves well, not a single piece would fall off
These studs come in packs of six so you need more to cover your entire snowboard.
Pros
Highly customizable
Decent grip
Sticks well
Cons
Why you should buy this stomp pad
Get decent traction while having the liberty to design your snowboard.
8. Dakine modular mat – Best Transparent Stomp Pad
This molded urethane pad can also be used as a scraper for your boots.
This modular pad comes in three sections so you can still customize the way it looks. Moreover, it has a raised part at the center that you can use as a scraper. You can easily remove the ice and snow from your boots.
It's super grippy provided that you glue it on properly. And some complaints on the grip resulted from not properly attaching the stomp pad to the board.
And if you want to display the graphics of your board, you'll love how these stomp pads are transparent.
Pros
Great traction
Can be customized
Long lasting
Cons
Why you should buy this stomp pad
These transparent stomp pads will showcase the design of your boards. Moreover, it is super grippy too.
9. Burton Snowboard Scratch Mats- Best Polyester Stomp Pad
These small stomp pads can short back foot traction well.
It has a scraper ridge that can remove the ice from your boots. It's easy to use, you just peel and stick.
These Burton small snowboard stomp pads are made from polyester and available in two colors.
Pros
Easy to install
Does not take too much space
Has a scraper
Cons
Why you should buy these snowboard stomp pads
If you need a small stomp pad for your boards, these can provide decent friction while eating up just a small space.
10. Crab Grab Squiggle stick- Best Lightweight
This sleek and simple stomp pad provides great friction for one-footed riding.
It's unobtrusive, plain, and simple. But it can provide great traction, even for one-foot riding. This stomp pad is made from a C foam technology. It's lightweight but can provide great friction. It also sticks well to your bird,
It comes in sets of two and the glue is already included with your purchase.
Pros
Lightweight
Glues well to the board
Great traction
Cons
Why you should buy this stomp pad
If you need a plain and simple stomp pad that can provide great traction for one-foot riding, this is it.
What are Stomp Pads
Stomp pads are adhesive or stickers attached to your board.it can either be glued on the center of the board or attached near the bindings of the food you take out when you're riding.
They are also known as traction pads or deck grips because they provide traction and friction to keep you on the board. Stomp Pads allow you to control your board better when you're getting off the chair lift or one-foot riding
Why Do you Need the Best Snowboard Stomp Pads
Do you need these adhesives on your snowboard? Definitely. And here are several uses of stomp pads.
1. Avoid slipping
When you're riding with one food, slipping is often inevitable. And this is where stomp pads are necessary. You have to detach one of your winter boots from the bindings to move around. So you need symptom pads to gain traction.
2. Can act as a snow scraper
Some stomp pads can also be utilized as a snow scraper. So you can easily remove the snow from your boots. Sometimes snow tends to cling to your bindings. And scrapers can remove them before they melt.
You also don't need to take your gloves off just to remove the snow from the boos. You simply have to rub your boots against the scraper part of the stomp pads.
3. Better control
One of the main functions of stomp pads is it allows you to gain more control over your snowboard. And that's especially when you are navigating to the side of the trail.
Types of Snowboard Stomp Pads
There are several types of snowboards. And each one has its pros and cons.
1. Rubber stomp pads
These are the more common material used for stomp pads. One of the advantages of rubber pads is that they can easily conform to the shape of your snowboard. And they are also quite flexible so they can easily follow your movement.
And since they are the most flexible, rubber pads can withstand an awful lot of movement.
2. Foam stomp pads
Foam pads are more affordable than rubber stomp pads ads And foam pads are highly customizable since they are very easy to cut.
You may also like: Best Snowmobile Communicators
3. Metal studs
Metals studs are individual pieces that are glued to your snowboard. One of the advantages of metal studs is that you dictate how much traction you can place on your snowboard and how it would look like.
The downside is, beginners might not have any idea how much traction they need. So they might not be able to maximize the use of the studs.
4. Skate rails
Skate rails are glued to the sides of the bindings of your board. They also have the same grip as rubber stomp pads.
FAQ's:
Can you remove stomp pads?
Yes, you can. Just hover a hairdryer on the stomp pad. After a while, the adhesive will start to soften and loose, then it will be easier to peel it off. 
Are traction pads necessary?
It's one way to keep you on the board, so yes. 
Where do you install your stomp pads?
You have to glue the stomp pads as close to the back binding as possible.
Conclusion
Stomp pads can make your life easier when you're loading and unloading from a resort chair. Especially for beginners and resort riders, this is an essential part of their gear. Though it's adhesive. It's still part of your gear.
And if you find stomp pads tacky or you don't want to cover the design of your boards, we have a nice selection of unobtrusive traction pads that you might like. You'll definitely find one from our list of the best snowboard stomp pads.